K O R L A  P A N D I T
(aka John Roland Redd, aka Juan Rolando)
<![if !vml]>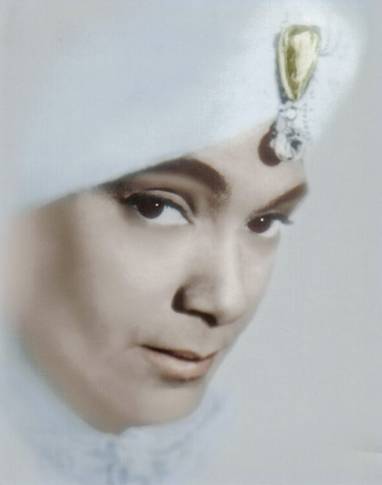 <![endif]>
1921 - 1998, a biographical sketch by David de Clue
Born in St. Louis, Missouri, U.S.A., and raised for a time in Hannibal, Missouri (1922-1931), Columbia, Missouri (1931-1937), Omaha, Nebraska (1937) and Ottumwa & Des Moines, Iowa (1938), Korla Pandit became an extremely popular and well-known television, radio and music personality whose life story emerges as one of extreme international popularity followed by a roller coaster life alternating between subsequent successes and hardships, maintaining close yet distant family ties with ancestry dating back to former slaves and Europeans, and a life's journey that is more than worthy of a Hollywood biopic.
Korla Pandit was born John Roland Redd, on September 16, 1921, to Doshia O'Nina Johnson (1885-1977) and Rev. Ernest S. Redd (1883-1966), both of Missouri (footnote1). Rev. Redd was the pastor of the Second Baptist Church in Columbia, Phelps County, Missouri (1912-1918; 1931-1944), and the 8th & Center Streets Baptist Church in Hannibal, Marion County, Missouri (1922-1931). Doshia, whose name is most likely a nickname taken from her maternal Aunt, Theodosia Langford, was the daughter of Henry F. Johnson, of New Orleans, Louisiana, and, Frances Maria Langford, of Potosi, Washington County, Missouri. Henry and Frances were married on May 9, 1882, in Potosi, by Rev. Philip Andrew Langford, who was Frances' paternal grandfather and a Baptist Minister (footnote2). Frances Maria was born a slave in Missouri, on June 2, 1863, to Nancy Ella Johnson (15 Jul 1836 - 25 May 1884) and Philip Anderson Lankford (1 Feb 1838 - 27 Feb 1907) (footnote 3). On July 31, 1865, when Phil and Nancy remarried after the end of the Civil War, as former slaves were required to do, Frances was listed as one of four children born to them while they lived as husband and wife while slaves. Phil, also known simply as Anderson Lankford, was the son of Rev. Philip Andrew Langford (d: c1885, Missouri) and his wife, also a former slave, Frances Dudley-Dennison-Smith (1792, Kentucky - 14 Sep 1880, Potosi) (footnote 4). Philip Andrew's line can be traced back to Edward Langford, who was born in England around 1620. His son, Thomas Langford, was born in New Kent County, Virginia, around 1645, and all Lankfords and Langfords in the U.S., whether Caucasian, African-American or Hispanic, are believed to be descended from Thomas Langford (footnote 5).
John Roland Redd lived in St. Louis for about the first eight or nine months of his life, and subsequently in Hannibal and Columbia, Missouri. According to his sister, Dorothy Redd-Cloud, he lived in Columbia, Missouri, until he graduated high school there in 1937, though the 1937 graduation ceremony programme doesn't list him as a graduate. His paternal first cousin, Jeanne Johnson, recalled that John Roland finished high school in Columbia, after which he left Missouri permanently. While little is known of these earliest years, (footnote 6) he indeed was descended from a long line of talented individuals. It seemed only natural that Korla would excel in music, or in whatever endeavor he pursued (footnote7).
By 1937 Korla was living with relatives in Omaha, Nebraska, and in 1938 was living in Ottumwa, Iowa, working for the Central Broadcasting Company in Des Moines (footnote8). In late 1938 or by early 1939, Korla came to Los Angeles and stayed with his sister Frances Redd-Hernandez-Pepo and her husband George Hernandez. Frances was the second of this particular Redd line to relocate to California (footnote 9), At some point around 1940 John Roland Redd began going by the name of Juan Rolando, all the while wearing what would become his trademark turban (footnote 10). His second incarnation would come about some eight years down the road.
By 1943, Juan Rolando was working as a staff organist for the local Los Angeles radio station KMPC, and apparently the same year was a staff organist and music clearance agent for NBC in Hollywood, earning $100 per week. That same year he was among the first music personalities to make 16" radio transcription discs (his first known sound recordings) for Capitol Records' Radio Transcriptions Division. Although never released to the public, those discs received air play since they were licensed to radio stations by Capitol. There was a Cocktail Hour records shellac disc entitled Right As The Rain, which was commercially released under the name of Juan Rolando in 1943. It is unknown if Korla released more records commercially as Juan Rolando.
On July 21, 1944, John Roland Redd/Juan Rolando, married Disney artist Beryl June DeBeeson in Tijuana, Mexico, as marriage between Blacks and Whites was illegal in the U.S. Beryl was then 24 years of age; Korla was 22. Korla continued appearing as Juan Rolando around Southern California, playing in supper clubs and lounges, gradually making a name for himself. Beryl was a friend of John's sister, Frances Redd-Pepo.
In 1946, Juan Rolando was heard on the Jubilee radio show, which was created and performed by Armed Forces Radio for black servicemen, and which (mostly) featured Black entertainers, as in show #165 with Juan Rolando - the one-man combo, playing both piano and Hammond organ at the same time (footnote 11). In the fall of 1948, Juan Rolando appeared at the opening of the Pomona recreation department's valley-wide art exhibition in Pomona's public library. The transition to Korla Pandit came in 1948.
Between June 28, 1948, and January 28, 1949, Korla Pandit (not Juan Rolando) was credited on the air as the Music Director for the revival of a popular radio show entitled Chandu The Magician, which had originally made its debut in 1932. The shows aired five days per week and were always live. According to the Internet website, Old Time Radio Theme Titles in Radio, (footnote 12) a man by the name of Felix Mills composed the title theme for the 1932 radio serial version. When Juan Rolando, as he was known to the show's cast members, took over the reigns as the music director and organist for the newly resurrected program, he used Mills' original "Chandu Theme" for the show and later claimed authorship, renaming it as his own Trance Dance. The John Roland Redd of old, first incarnated as Juan Rolando, had seen his second incarnation. Korla Pandit was born with the airing of 1948's "Chandu The Magician," and the second incarnation of John Roland Redd had materialized.
At a 1948 appearance playing for a furrier's fashion show at Tom Brenaman's Restaurant in Hollywood, Korla and Beryl met television pioneer Klaus Landsberg. Klaus loved Korla's look and offered him his own 15-minute daily television show on the local Los Angeles station, KTLA, with the stipulation that Korla would also provide musical accompaniment for another television show entitled Time For Beany (footnote 13). Landsberg also insisted that Korla not speak on the show, but rather just gaze mysteriously into the camera as he played a Hammond organ and a grand piano simultaneously. Korla followed Klaus's contractual obligations, and became an overnight star and one of early television's pioneering musical artists.
With the 1948 birth, so-to-speak, of Korla Pandit, came the birth of Beryl and Korla's first son, Shari Pandit (5 Augustus 1948 - 31 December 2000). Six months later, in February of 1949, Time For Beany and Korla Pandit's Adventures In Music both debuted on television station KTLA in Hollywood, California, and television history was made. Both shows were performed live, five days per week, Monday through Friday! Only a few of these shows were recorded via 16 mm film or "kinescope" process. All the rest have been lost forever. In over 900 episodes (footnote 14), Korla played romantic compositions while gazing alluringly into the camera and, therefore, right into the television sets of millions of homes throughout the United States. It was said to have been a gaze so sensually mesmerizing that it captivated both women and men alike.
The early 1950s saw Korla recording as a band member of The Sons of the Pioneers for RCA Victor Radio Corporation of America. The original lead singer of that band was none other than Roy Rogers (footnote 15). He also recorded his first commercial albums manufactured and distributed by Vita Records, headquartered in Pasadena, California. Vita was basically a "black artist" label. Throughout his career, Korla Pandit continued making recordings and many are still available on cassette, vinyl album and compact disc, especially on the Internet website, eBay. His earliest 1950s recordings were with Vita Records. In 1954, he established his own label known as India Records. It was on India Records that he was able to release his own album, The Universal Language of Music. It was the first of four (possibly five) albums with the same title. Soon after Korla released his "maiden album" on India, he was signed by Berkeley, California's new Fantasy records label, which was a fledgeling label enjoying considerable success with such legends as Dave Brubeck, Chet Baker, Gerry Mulligan, Lenny Bruce and Odetta. They eventually signed Korla Pandit in 1958. It was with Fantasy Records that Korla made numerous stereophonic recordings along with other mono recordings (footnote 16).
Even with the ever-increasing demands on Korla's time, he and Beryl added to their family on August 19, 1950, with the birth of their second son, Khris Koram (John) Pandit. Born in Los Angeles, John continues living between Santa Rosa, California, and British Columbia, Canada, where Mrs. Beryl Pandit resided until her death. Throughout the year Korla could be seen and heard on his television show at noon on KTLA-Channel 5, in Los Angeles.
The March 23, 1951 issue of one of the music Industry's top magazines, Down Beat, carried a Hollywood Beat feature story by columnist Hal Holly, complete with photograph, "Korla Pandit And Organ Attract Femmes To Video." The article describes a visit to the KTLA studio from which Korla was broadcasting his show, and refers to Korla as being known to local musicians as Juan Rolando. Beryl is also mentioned in the article.
On September 13, 1951, Vita Records owner Larry H. Meade promoted Korla Pandit in a two hour concert at the Pasadena Civic Auditorium which - according to the September 22 1951 issue of The Billboard - drew 1, 950 persons and grossed $3,500.00. According to the article, Korla received 60 per cent of the gross. The article goes on to list the program, and reports that Korla was called back for three encores.
Already a pioneer in television, in August of 1951 Korla joined forces with real estate developer Louis D. Snader, who entrepreneured what can only be described as the music world's first music videos, which were then called "telescriptions." They were 16 mm film clips featuring everyone who was anyone in music, from Nat King Cole and Peggy Lee, to the Four Aces and Korla Pandit! These short, filmed segments showcased an individual's talents and were sent all over the United States (i.e., syndicated) to be used as "fill" featurettes on local television stations. Korla's popularity was spreading and the mystery man with the turban, who was so skilled on the organ and piano, appeared in ten Snader telescriptions. Korla now became a pioneer of music videos and syndication.
While appearing in his first film in 1952, Something To Live For, Korla again appeared on television with Jimmy Durante (who was known as "The Schnoz" to his legion of fans), who is said to have done an hilarious parody of Korla, seated at the organ and wearing a turban on the All Star Revue. The same year Mr. Pandit performed at the Wilshire Ebel Theater in Los Angeles (footnote 17). The Pandit family was by then living in the Santa Cruz-Ben Lomond area of California. Around this time, yet prior to 1953, it could be said (in his private life) that John Roland Redd's new name of Korla Pandit became his new, official and final name when he obtained a social security card issued to Korla Pandit. The application for the card took place in Des Moines, Iowa, where his brother "Speck" Redd lived at the time. In 1953, and again in 1967, Korla appeared in the Pasadena Rose Parade (now known as "The Rose Bowl Parade"), won the TV Guide Award as "the San Francisco Bay area TV personality most worthy of network recognition," appeared in 52 (fifty-two) more television show episodes, and had a write-up in The Hollywood Reporter (footnote18).
The year 1954 saw another strange twist in Korla's career, as Lou Snader next contracted Korla for 52 half-hour shows, in addition to the previously-filmed, original ten, Snader telescriptions (i.e., music videos) featuring Korla, which were offered to stations around the U.S. as individual performances and/or complete 15 minute television programs. Disagreements between Korla and Lou Snader developed, and Korla, having completed the minimum required shows (but not the entire 52) declared to one and all that he would not be owned, and did not re-sign with Snader. He was replaced with a young piano player who had appeared on his own local program on Los Angeles TV station KLAC in Hollywood in 1952. Although the replacement brought his own candelabrum, he was provided with Korla Pandit's set decorations, complete with flowing white curtains and grand piano. No organ or turban this time....just candles, wavy hair, lots of teeth, and a voice to go with it all. That replacement was known as Liberace! Without a single doubt, had there been no Korla Pandit, there would have been no Liberace!
As Korla's musical career progressed, he appeared in Korla Pandit Adventures In Music on local television station KGO, Channel 7, in San Francisco, in 1955, and became a Bay Area hit! The family moved to the Los Gatos area of California where he appeared in a variant of the same television format, which was also titled Adventures in Music, on KNTV, Channel 11. Never one to restrict himself to one single career inspiration, Korla kept one foot in Hollywood while appearing live in San Francisco. His frequent live appearances made nearly everyone aware of his increasingly phenomenal presence. In 1957, Korla and Beryl attended the "Lili St. Cyr Show" at Hollywood's famous Moulin Rouge supper club. The two were there to visit Miss St. Cyr, with whom Korla had once performed on the same bill.
Korla Pandit made his mark throughout his career, even when times were hard and his brand of exotic music was no longer popular. Though he never seemed to be out-of-style with his California fans, to the rest of the nation he would eventually be forgotten, only to be found again and on the so-called comeback trail. He made an appearance in West Seattle on September 22, 1972, and appeared in Richard Pryor's Which Way Is Up? in 1977, while 1983 saw him concertizing with several belly dancers he named "The Pandettes," at Dominic's Midnight Rollerway and bowling alley in Glendale, California. Such work can best be described as a "revival" of his live shows and career. In his appearances at the Rose Bowl Parades he was said to have garnered the loudest and longest cheers from the crowd. In 1987 a much-heralded concert at the Los Angeles Park Plaza Hotel's Terrace Room, started Korla Pandit on the "comeback trail" (footnote 19). By 1990 he had teamed with lounge entrepreneur Joey Cheezhee to appear at local drive-ins, roller rinks, theaters and regular floor shows in "The Co-Co Bowl Room" at Kelbo's original Polynesian Restaurant in Los Angeles. He played a "tiki revival" with the Cheezhee show at Bimbo's famed but faded nightclub in San Francisco in 1966, the Orpheum Theatre in the Fall of 1968, as well as other similar gigs, including Jack's Sugar Shack and The House of Blues, both favorite Los Angeles bar and showroom hot spots of the day. Even Variety noted as late of June 14, 1993 mentioned his playing with Cheezhee on Tuesday nights at Los Feliz Supper Club, stating he was in his sixties, but looking "curiously young and spry."
The period in Korla's life from about 1975 through 1990 was marked by several moves and yet another television show. From 1975 through 1986 he resided with a close friend, Corliss McDougall, and continued working. Thereafter, until 1988, he resided with another friend, Barbara Herd, who owned a candle manufacturing company. For the two subsequent years he resided with Michael Copner, who produced numerous concerts in Seattle, Washington, for Korla, as well as a television talk show pilot which Korla hosted. Mr. Copner plans to one day release that television show pilot on either VHS or DVD. This same period also saw Korla residing with his sister, Dorothy Cloud, in Los Angeles, and playing the movie accompaniment for Lon Chaney, Sr. in The Phantom of the Opera screenings at the Orpheum Theater in Los Angeles, and the Arlington Theater in Santa Barbara, California (footnote 20).
Mr. Pandit played the Azusa Foothill Drive-In Theater on Foothill Boulevard in Azusa, California, on June 17, 1995. His final live performance was on February 14, 1997, at the Luna Park Club in Los Angeles. In declining health, in part due to diabetes, Korla ultimately lived in a convalescent home in Petaluma, California, where he was visited every day his daughter-in-law Kim. His final film performance was in director Tim Burton's 1994 film, Ed Wood, with his final production credit (a the musical composer) in the 1996 Independent film, Spectres of the Spectrum.
Beryl Pandit passed away in British Columbia, Canada, on Saturday evening, December 31, 2005, at the age of 85. Korla Pandit passed away at age 77, on October 2, 1998, at Petaluma Valley Hospital, in Petaluma, California, of a heart attack (footnote 21). In the best or worst of his times, it can be said he always maintained his dignity, and demanded and received respect from his fans and family members who knew him. Mr. Pandit's stage and screen persona were a well-crafted and well-guarded image that he maintained and for the most part, kept intact until his death. He was unquestionably "The Godfather of Exotica" (footnote 22).
In June 2001, an article that appeared in Los Angeles Magazine attempted to shatter the Korla Pandit mythology in a rather unnecessary manner. Much of what was written by Mr. Smith was incorrect (footnote 23) and while it is true that Korla Pandit was not the descendant of a Brahman Indian priest and a Caucasian, French opera singer, his lineage from former Missouri & Virginia slaves, work as a pioneer of syndication and music videos, talents and artistry as a pianist & organist and collaboration with his wife Beryl, are testaments to his lifelong artistry. In what can only be described as an ironic twist of mega-proportions, Korla's father, Rev. Ernest S. Redd (1883-1966), published his autobiography in 1962 (footnote 24). Along with noting his son John Roland's 1921 birth while living in St. Louis, and a 1937 visit by Rev. Redd and his wife, Doshia O'Nina Johnson-Redd (1885-1977) to John Roland while he was living with relatives in Nebraska, Rev. Redd noted how he was descended from former slaves on his father's side. Rev. Ernest Redd's father, Rev. O. T. Redd (d: 1934), was born in Richmond, Virginia, the son of slaves. Once it was pieced together how Korla was descended from Frances Maria Langford of Potosi, Missouri, it became fact that he was descended from former Missouri slaves on his mother's side as well. Having spent a lifetime upholding the myth that his ancestry was, in part, Caucasian (from France), and that his musical ability came from his opera-singing French mother, the utterly ironic truth is that he really did descend from a Caucasian and an extremely musically talented line. He descends maternally, not from French, but English and African-American. His creative, musical and artistic ability, like that of all of his siblings (Speck, Ruth, Frances, Dorothy, Pauline & Harry) seems to have sprung from his maternal, part-African-American & part-Caucasian, great-grandfather, Phil Anderson Lankford (footnote 25).
In May 2004, the author obtained a copy of Korla's 1921 birth certificate, which listed his birth place as St. Louis, Missouri, at 4240 Enright Avenue. A photo of his birth home appears on the gallery pages, though sadly, the obviously once stately, brick-framed home built in 1899, is in desperate need of major repairs. In January 2004 one of his sisters, Pauline Marie Redd-Williams, who is noted in his father's 1962 autobiography, passed away in Los Angeles, never having revealed his true identity to anyone outside of the family, just as his other siblings had done all their lives.
The life of Korla Pandit [John (Juan) Roland (Rolando) Redd], is truly one which brings to mind images of a Hollywood movie, and hopefully true to that cliché, one day "The Korla Pandit Story" will be made that displays his true artistic ability, glorious family history and fascinating life as a pioneer in the television industry (footnote 26). It is a family that continues to reveal itself years after his death, as, thanks to the Internet, we've located Korla's other son & grandson, who have been happily added to our Lankford family tree (footnote 27).
In the words of Korla Pandit's close friend and biographer, Verne Langdon, "The word which most closely sums up the "birth" and life of Korla Pandit is 'Exotic.' In an industry where Doris Mary Anne Von Kappellhoff, Roy Scherer, Ruby Stevens, Marion Francis Morrison, Leonard Slye, Frances Gumm, Jacob Cohen and Archibald Alexander Leach became, respectively, Doris Day, Rock Hudson, Barbara Stanwyck, John Wayne, Roy Rogers, Judy Garland, Rodney Dangerfield and Cary Grant, it is perfectly acceptable that John Roland Redd morphed into a beturbaned Mexican and then into a very mysterious Indian musician. Only in Hollywood, California, and America, U.S.A., could such a thing happen. He was One of a Kind, First in the Field of One, an incredibly gifted artist, husband, and loving father. Once Korla Pandit was ours. Now he belongs to The Ages.
David de Clue, 2006
Additional information and footnotes:
The Film Credits Of Korla Pandit:
1 Something To Live For (1952)
Appears as a Hindu, with no spoken lines.
2 Which Way Is Up? (1977)
Appears as a Hindu, with his lines dubbed by another actor for reasons unknown.
3 Ed Wood (1994)
Appears as himself, playing his trademark Hammond B-3 organ, with no spoken lines.
4 Phantom Of The Opera (1990)
Complete musical score; Laser Disc release by Canadian company called Lumivision who made one of two transfers of the original 1925 Lon Chaney film.
5 Spectres of the Spectrum (1996)
Credited with the film score along with Isao Tomita, John Waterman and DJ Spooky (Screened at the 1999 Vancouver Film Festival).
The Sound Recordings of Korla Pandit:
See the listing on the Discography Pages and the Tunes Pages.
Note: Many of Mr. Pandit's albums and compact discs are, as of this writing, still available online, through some of the following websites: eBay.com - eBay.ca (eBay's Canadian site) collectiblerecords.com - mordamrecords.com - epitonic.com - traderverne.com - deuceofclubs.com/tunes/korla.htm - amazon.com - amazon.co.uk - overstock.com - wal-mart.com - bestbuy.com - highbeam.com - gemm.com - bizrate.com - shopping.yahoo.com - collectorweb.biz - wonderyearsrecords.com - greatesthitsmailorder.com - 99only.com - hipwax.com/liners/pandit.html - See also, encorehomevideo.com - dejavu-record-co.com - bn.com (Barnes & Noble) (for copies of his 1950s television program - This is by no means a complete listing of locations for his albums, CDs and videos!
Episodes of "Chandu The Magician":
(All episodes are listed on http://www.glowingdial.com/archived_chandu.htm)
Footnotes:
1. The April 1, 1930, U.S. Census for Marion County, State of Missouri, City of Hannibal, lists Ernest S. Redd, as head of household, Negro, male, married, born in Missouri, age 47 at last birthday, with father born in Virginia and mother born in Missouri. His wife is listed as Doshia, female, Negro, age 42 at last birthday, age 21 at last marriage, with mother born in Missouri, father born in Louisiana. The children listed included: Ruth L., age 19; Harry E., age 18, Ernest S., age 16, Francis, age 15, Pauline M., age 7, John R., age 8, and Dorothy E., age 4 1/2. Listed as his mother-in-law is Frances M. Johnson, age 66 (i.e., Frances Maria Langford-Johnson). The information previously uncovered by the author in 1995 and 1996 from The Missouri State Archives for Frances Maria Langford (b: 2 Jun 1863; daughter of Phil and Nancy Lankford), matches the census information, as well as information provided by several family members. Frances would have been 67 on June 2, 1930. The John R. listed as age 8 in 1930 matches John Roland Redd (Korla Pandit).
John Roland Redd's birth certificate (Number 21-051236; 23rd Ward, Registered Number 1313, Registration District Number 791) from the Bureau of Vital Statistics, Jefferson City, Missouri, notes his middle name as "Rolan" (without a "d"), which is incorrect, per his father's 1962 book, Incidentally Ministerial (p. 84). His parents are listed as the very same Ernest Redd and Doshia Johnson, then living at 4240 Enright Avenue, St. Louis, Missouri, 63108. Both parents are noted as "Colored" and both born in Missouri. On his date of birth of September 16, 1921, his father was 38 and his mother was 35. That squarely places his father's year of birth at 1883, the very same year Rev. Ernest Redd always stated he was born, including in his autobiography. Also according to Korla's father's 1962 autobiography, the family moved from St. Louis to Columbia, Missouri, during the summer of 1922, and after a long vacation in Randolph Springs, Missouri, arriving, to stay, in Columbia, during the winter of 1922. See, The St. Louis Argus, June 2, 1922, p. 6: Notice in the paper that Randolph Springs, National Health Resort, opens June 3rd. See, also, St. Louis Argus, September 10, 1920, p. 3, Society And Local Notes, Continued From Page Two: - REV. E. S. REDD ACCEPTS Y.M.C.A. WORK HERE - It has been reported that Rev. Ernest S. Redd, of Columbia, Mo., has accepted work at the Pine Street Department YMCA as Religious Work Secretary. He is to enter upon his new duties about September 15th. Rev. Redd has been considering this work for some time but has finally decided to accept.
While the family was in Columbia, see, e.g., The St. Louis Argus, January 24, 1924, OOTN: Columbia, Mo. - Mr. and Mrs. Moses Wilson entertained Christmas morning at a waffle breakfast the following: Rev. & Mrs. E. S. Redd, Mrs. J. H. Gatewood, Mr. & Mrs. Victor Brown, Little Dorothy Redd. *** Misses Ruth Redd [is] substituting during the absence of Miss Edythe Williams. - November 13, 1931, p. 13, OOTN: Columbia, Mo. - Rev. & Mrs. E. S. Redd and family were greatly surprised Monday night by a surprise party given by the members of broadway Baptist Church under the leadership of Mrs. Anna Carter, James Carter and Jessie Robnett. - October 16, 1931, p. 11, OOTN: Columbia, Mo. - Rev. and Mrs. E. S. Redd and family have moved to Columbia. They will be at home, 413 N. 5th Street. - January 22, 1932, p. 11, OOTN: Columbia, Mo. - The Golden Leaf Mission Circle met Friday evening at the residence of Mrs. John Brown, on Oak Street. The Circle has planned to give away a Hope Chest soon. The contestants are: Miss Ruth Williams and Miss Ruth L. Redd. *** The weekly meeting of the Ministerial Alliance was held in the Study of the Broadway Baptist Church Monday afternoon. Rev. Redd discussed the topic, "The Problems Confronting the Church in Columbia."
While the family was visiting or living in St. Louis, see, e.g., The St. Louis Argus, September 5, 1919, p. 5, Society And Local Notes: Rev. E. S. Redd of Columbia, Mo., while visiting the Y. M. C. A. was highly entertained by R. Berryman, H. Lasker, Trpy Gorum and C. D. Ferguson at midnight luncheon and refreshments were served. - May 22, 1920, p. 3, Society And Local News: - HEAR REV. E. S. REDD LIVE WIRE "Y" PASTOR - At First Baptist Church Sunday, April 24, 3:30 p. m., he will address the teachers and worker's council of the Antioch District Sunday School Union on "How To Restore the Old Evangelistic Fervor in the New Age." - January 1, 1926, p. 2: MY CREED by Ernest S. Redd - To discover God's will concerning me, and to be submissive to that will; to live an abundant life, being generous and over flowing with love for the Creator and mankind, seeing the good and divine in nature and humanity; to bring sunshine into my life and to scatter it along my path; to find pleasure in works and joy in occupation; forgetting the failures and heartaches of yesterday in the conflicts of today; I may find it in ultimate success; to abase myself that in due time the promised exaltation may come; to trust the Lord and be unalterable in his trust; This Shall be my Creed for the New Year. - December 15, 1939, page 6: 'Midnight Shadow,' an all-Colored cast, real murder mystery, will be presented four days starting Sunday. It is a George Randol production, with Frances Redd. - December 15, 1939, page 6: Advertisement for "Midnight Shadow" at The Star Theatre, St. Louis, Missouri.
While the family was in Hannibal, see, e.g., The St. Louis Argus, January 23, 1924, p. 13, OOTN: Hannibal, Mo. - The pastor Rev. Redd and his wife spared no pains to show their appreciation of large crops of workers who had served so faithfully during the past year. At 8:30 p. m. the guest marching to the strains of sweet music gathered in the newly decorated assembly room where the tables had been tastefully arranged with flowers and ferns for the occasion. Mrs. D. J. Redd, chairman. *** Potosi, Mo. - The Mitchells, Jamisons and Duncans were dinner guests, in Potosi, of Mr. & Mrs. Ernest Walton, Sunday evening. - January 9, 1925, p. 13, OOTN: Hannibal, Mo. - Rev. and Mrs. Ernest Redd gave a Christmas party for their daughter, Miss Ruth Redd, Tuesday, December 30. About forty young people were present. After some time spent with games and music, they were served in the dining rooms of the parsonage, which was prettily decorated for the occasion. There were several out of town guests present. *** The pastor of Eighth and Center Sts. Baptist Church, Rev. Redd, has announced a series of Sunday evening addresses on "Love, Courtship and Marriage," beginning Sunday, January 11. Aside from the address there is to be a special feature at each service. - May 29, 1925, p. 11, OOTN: Hannibal, Mo. - Mrs. Frankie M. Johnson, after spending several months in Kansas City, has returned to live with her daughter, Mrs. D. J. Redd. (note: back in the day, married women almost always replaced their middle name with their maiden name, which is why Doshia O'Nina Johnson-Redd is noted as Doshia Johnson Redd.) - June 26, 1925, p. 11, OOTN: Hannibal, Mo. - Rev. E. S. Redd...spent several days at Kirksville where he attended the meeting of the North Missouri Sunday School Convention. - July 17, 1925, p. 11, OOTN: Hannibal, Mo. - Mrs. F. M. Johnson, mother of Mrs. D. J. Redd, suffered a painful injury recently when falling down stairs, she sprained a wrist and crushed the small bones of the right hand. - January 16, 1925, p. 13, OOTN: Hannibal, Mo. - The second sermon of the series on "Domestic happiness" will be preached by Rev. Ernest S. Redd at the Eighth & Center Sts. Baptist Church next Sunday evening. - August 28, 1925, p. 11, OOTN: Hannibal, Mo. - Rev. Ernest S. Redd attended the Association in Keokuk where he delivered the Educational address of Friday evening, August 21. - November 6, 1925, p. 13, OOTN: Hannibal, Mo. - Rev. Ernest S. Redd, pastor of the Eighth and Center Sts. Baptist Church, went to Quincy, Ill., Sunday afternoon where he assisted in ordaining Rev. Johnson Craven to the Baptist ministry. Rev. Redd preached the ordination sermon. He was accompanied by Rev. Lewis, Mr. Leander Parker and Miss Ruth Redd. - February 20, 1925, p. 13, OOTN: Hannibal, Mo. - Any one in Hannibal having hews for the Argus, will call Mrs. Daisy Brown, Phone 363, not later than Monday of each week. - March 20, 1925, p.14, OOTN: Hannibal, Mo. - (Just below a Little Black "Sambo" cartoon): rev. and Mrs. E. S. Redd (and others) were dinner guests of Mrs. Lucinda Smith, last Wednesday. - May 29, 1931, p. 11. OOTN: Hannibal, Mo. - The installation sermon by Rev. E. S. Redd of 8th and Center Baptist Church was a treat to everyone. He made use of these words as a theme, "One Thing That's Needful," Luke 10: 42. - February 5, 1926, p. 13, OOTN: Hannibal, Mo - A successful pew rally was conducted at the Eighth & Center Streets Baptist Church last Sunday. The pastor Rev. Ernest S. Redd preached at each of the three services. The subject of the morning sermon was "Our Guarantee of Peace." In the afternoon "Wisdom's House." At the evening service he delivered a very practical sermon from the text "What is that in thine hand." February 4, 1927, p. 13, OOTN: Hannibal, Mo. - The services at Eighth & Center Streets Baptist Church were largely attended last Sunday evening. The audience was one of the largest that has been in attendance during the pastorate of Rev. E. S. Redd, who has been serving this congregation for more than four years.
From The St. Louis Argus newspaper, here's an interesting item: July 18, 1924, p. 11, Out Of Town News (OOTN): Carrollton, Mo. - Preaching services will be held both Sunday morning and nite at the Virginia Street Baptist Church. Rev. G. C. Chinn preached in the morning and Rev. O. T. Redd of Kansas City, at night.
2. See, http://vienici.com (online genealogy database; Washington County Black Marriages, 1881-1899). See also, Washington County Marriage Book 1881-1899 Index, Langford, Frances M., p. 51. See also, Marriage Record Book A - Colored "Private" 1866 - 1875 - Washington County, Missouri, Lan[g]ford, Philip & Frances Smith, 1; Lan[g]ford, Anderson & Nancy Johnson, 1.
3. See, Marriage registry of Philip Anderson Langford and Nancy Ella Johnson, Office of the Secretary of State, Missouri State Archives, Jefferson City, Missouri, dated July 31, 1865, Washington County, Breton Township (City of Potosi), Missouri. Frances Maria Langford-Johnson's given name is spelled Francis (with an "i") in the official marriage registry. It is spelled Frances (with an "e") in other documentation, such as the transcribed version of the marriage registries, and in her son-in-law's autobiography.
4. See, page 1,"Marriage Record Book A - Colored "Private" - 1866 To 1875 - Washington County, Missouri," Anderson Langford & Nancy Johnson (listed daughter: Frances Maria Langford, born: 2 Jun 1863). See also, The Lankfords & Langfords of Virginia, by Bruce Montgomery Edwards (deceased), Gateway Press, Inc., Baltimore, MD 1987, pages 91-93. (While the Edwards book notes Phil Anderson Lankford (born: 1838) as a son of Andrew Langford (b: 1812 or 1813) and Martha (maiden name unknown; married Andrew in 1829), subsequent research indicates that Martha was his first wife and Mrs. Frances Dudley-Dennison-Smith, a former slave, was his second wife, to whom Anderson Langford was born in Missouri.
5. John Roland's maternal grandmother was Frances Maria Langford. Her siblings included John Anderson Lankford (1874 - 1946), Arthur Edward Lankford (1879 - 1908), Philip Benjamin "P. B." Lankford (1859 - 1930) of St. Louis, Missouri, Theodosia Langford (b: 1865), Ella Langford (b: 1960), Sarah Ellaine Langford (b: 1963), Jane Lankford-Combs (b: 1868) of Richmond, Missouri, and Ida Boyd Lankford -Boyd-Wade of Ironton, Missouri, and Denver, Colorado. The African-American line's name started as Langford (with a "g") and sometime during the late 1800s, some lines began spelling their surname Lankford (with a "k"). The author believes it was most likely because census takers, who were not very adept in writing, simply spelled surnames the best they could from the way they sounded. See, also, The St. Louis Argus, December 9, 1932, p. 9, OOTN: Hannibal, Mo. - The remains of Mrs. H. F. Johnson who died on Tuesday last at Columbia, Mo., were brought to Hannibal after funeral services which took place on Friday afternoon in Columbia. The funeral cortege arrived in Hannibal Saturday afternoon at 1:30 after having been made over land. The funeral party went directly to Robinson's Cemetery where a short graveside service was conducted by Rev. Madden and Rev. Parker of Columbia. Among the closest surviving relatives of the deceased are Mrs. E. E. Redd, daughter of Columbia; Phillip Johnson, son of Chicago and Mrs. J. T. Brown, sister, of Hannibal. *** Rev. E. S. Redd and family were in Hannibal Saturday attending the funeral of Mrs. H. F. Johnson, the mother of Mrs. Redd. The family was deeply touched by the expressions of kindness and sympathy they found here. A three-course luncheon had been daintily prepared by the Silent Workers Club, and was served after the burial at the residence of Mrs. L. D. Queen before the funeral party returned to Columbia. A lovely box of flowers from the 8th and Center Streets Baptist Church was presented by Mrs. Powers. At a point in her life, Frances Johnson moved back to her roots in Potosi and DeSoto, Missouri. The St. Louis Argus newspaper regularly carried a section titled "Out Of Town News," which reported the comings and goings. See, e.g., March 31, 1922, p. 11 (Frances Johnson visited DeSoto from Potosi); May 12, 1922, p. 6 (Mrs. Frances Johnson had a visit from Mrs. Jesse Johnson of Kokomo, Indiana).
6. After graduating high school and traveling in a jazz band with his brothers, Ernest & Harry, in 1937 he was living with relatives in Omaha, Nebraska, and doing well in school. By May of 1938 he was living in Ottumwa, Iowa. His father notes in his autobiography that he allowed his sons to pursue their musical careers and to make their livelihood playing their music. John's/Korla's earliest days would have been spent in Columbia and St. Louis, Missouri, since the family was living in St. Louis from 1920 through the summer of 1922, while Rev. Ernest Redd commuted between St. Louis and Columbia, working as a pastor in Columbia and with the Y.M.C.A. in St. Louis. Family members and friends have confirmed that he lived with his sister, Frances Elizabeth Redd-Pepo, in Los Angeles, California, when he first arrived. That is where, in 1941, he would meet his future wife, Beryl June DeBeeson, who stayed with Frances for a time in the 1930s. Frances starred in what can be called a "Black film" in 1938 for George Randol Productions [Sack Amusement Enterprises (distributor); Phoenix Films (copyright holder); Tyler-Texas Black Film Collection (owner)] entitled "Midnight Shadow" (released in 1939) with John Criner. A copy of that film can still be purchased online via amazon.com at the following website (http://www.amazon.com/exec/obidos/tg/detail/-/6302989434/qid=1082321882/sr=1-1/ref=sr_1_1/002-3772167-9855232?v=glance&s=video) and rented at the St. Louis Public Library. Oddly enough, though the family moved from St. Louis in the summer of 1922, Harry graduated from Sumner High School in St. Louis in 1924. (See, The St. Louis Argus, January 25, 1924, p. 7: "Sumner High January 1924 Graduates" - Commencement exercises were held in the Sumner High School Auditorium Wednesday night, by the following Members of the January graduating class: Commercial - Harry Elmer Redd.
Beryl worked for Disney's special effects department in the 1930s, and later with Hanna-Barbera's background department. Her father, George DeBeeson (31 May 1897-1965; born: George DeJean Beeson), was an animator at Disney Studios, Walter Lanz (of "Woody Woodpecker" cartoon fame) and Universal Studios, having done animations for such Disney classics as "Pinocchio" and "Snow White & The Seven Dwarfs." Via Korla's family, there is no indication that he ever spent any time in Chicago (other than possible play dates or "gigs") or at the University of Chicago. His father does state (p. 123), however, that while living with relatives in 1937 in Omaha, Nebraska, John was doing well in school...obviously in Nebraska!
During the summer of 1936, Rev. Redd & wife Doshia visited Doshia's "Uncle John," in Washington, D.C. Per John Anderson Lankford's records, he would have been living at 1261 Irving Street, N. W., Washington, D.C., which is now the site of the Harriet Tubman Elementary School.
7. Mr. Pandit's nephew (the son of his sister Dorothy Redd-Cloud), Frank Gregory Cloud, is a Los Angeles architect. His brother, Gary Cloud, is a well-known photographer for such enterprises as the NAACP Image Awards. His nephew, Adrian Pepo (the son of his sister Frances Redd) was the lead singer for both "Zola Taylor's Platters" and "The Amazing Platters" vocal groups, which were successful groups that formed during and after the long legal battle that encompassed the original Platters. His father, Ernest, was an accomplished pianist, while his brother, Harry, played the sax. His mother, Doshia, was a soprano inher church choirs, which may have given him the "notion" to claim his mother was an opera singer. His maternal great-grandfather, Philip Anderson Lankford, was a ragtime musician and composer, who was a contemporary of and knew Scott Joplin. Two of Korla's maternal great-uncles, John Anderson Lankford and Arthur Edward Lankford, were architects, while two of his third cousins, Robert C. Bumbary, Sr., and Robert C. Bumbary, Jr., (direct descendants of John Anderson Lankford) are or were Washington, D.C.-based architects. Arthur Edward Lankford (1879-1908) was a Tuskegee graduate who worked in his brother's firm of J. A. Lankford & Bro., in the early 1900s in Washington, D.C. John Anderson Lankford (1874-1945) was the well-known architect who was known as the "Dean of African-American Architects." His cousin, Harvey Lankford, played in the band for the Russell Bros. Circus (1936-1945), which was a traveling circus that spent it's summer months throughout the midwest and wintered in California, as well as Ringling Bros (1947 - c.1951). Harvey was also an influential jazz musician in the 1930s, having played with Louis Armstrong, Fate Marable, Floyd Campbell, Dewey Jackson, and others, he had his own band as well, known as Harvey Lankford's Synco High Hatters. He was also a member of the St. Louis Negro Symphony Orchestra (1947). One of Korla's great-nephews, Gary Bass (the grandson of his brother, Speck Redd) has been a musician for singer Janet Jackson for years. Another cousin, Clinton Stevens Harris, was a New York-based architect, while several other cousins were gifted singers and/or musicians in their own right.
8. The Musician's Union in California, lists Korla Pandit as a nonmember, with the social security card number of 478-14-7780. On June 1, 1938, John Roland Redd obtained social security card number 478-14-7780 in Iowa, while living at 6381 E. Main Street, Ottumwa, Iowa. As of May 26th of that year he had been working in Des Moines, Iowa, for the Central Broadcasting Company. On his social security card application he lists his place of birth as St. Louis and his date of birth as September 16, 1923...age 14. He was actually 16. He lists his parents as Rev. Ernest Samuel Redd and Doshia O'Nina Johnson; sex: male; race: negro.
9. Korla's eldest sister, Ruth Lankford Redd-Paillet, was the first to make the move to California. His sister Frances Elizabeth Redd-Hernandez-Pepo followed, with the initial intention of becoming a makeup artist. See, St. Louis Argus, May 26, 1939, page 7: - With Randall Films - Chicago, Ill. - Miss Frances Redd, Columbia, Mo., daughter of Rev. and Mrs. E. S. Redd, took a T.W.A. airplane for Los Angeles, Calif., last week. Miss Redd has been given a position as make-up artist for the George Randall Film Production for their next picture. She was a member of the July class "39" of Poro College here. Miss Redd received her special training in make-up under Paul Parsons, photographer for Stephen's College, who did photograph work for Joan Crawford. Upon her arrival at Los Angeles, Miss Redd was notified by Mr. Randall that she was to take the leading role. Mrs. Annie M. Malone has written Mr. Randall, thanking him for the position and promotion.
10. Although going by a Mexican name, he wore a turban which became synonymous with his person and personality. His original turban closely resembled the one worn by John Criner's character, Prince Alihabad, his sister Frances' film, "Midnight Shadow." It was an easy step from John Roland to Juan Rolando, since the Spanish for John is Juan, and the closest Spanish translation to Roland is Rolando. During the period of his incarnation to Juan Rolando, the style of the day for many hispanics was to wear a type of dress commonly known as the "zoot suit." The "Zoot Suit Riots" in May and June of 1943 no doubt had some effect on Juan Rolando. It was certainly not the style for a Mexican to wear a turban, which may have been a reason he was not phased, career-wise, by the riots. The riots were so-called because groups of U.S. military men were roaming the streets of Los Angeles looking for anyone wearing what they would have considered Mexican or hispanic dress. Korla continued using his assumed Mexican name and continued wearing his turban, although now claiming to be a "native of New Delhi, India, and educated in this country at the University of Chicago."
11. Numerous family members have original copies of his book. In what can only be called (at least by this author) a direct reference to his son's evolving career, Rev. Redd states about his son (@ page 109), "Another appears on television in various localities playing the piano and organ simultaneously, an act he has practically perfected."
12. http://www.classicthemes.com/oldTimeRadioThemes/radioTitleIndex.html
13. Time For Beany was a hand-puppet show created by new TV producer Bob Clampett and featuring the voice characterizations of Stan Freberg and Daws Butler, who would become famous later in their own right.
14. For a television show to run over 900 episodes is a feat barely matched even by today's (May 2005) standards. It is still considered a milestone for any television show to reach the 100 episode mark. The only shows to come close to Mr. Pandit's numbers include such venerables as It's Academic (44 years; well over 900 episodes), Jeopardy (41 years; over 900 episodes), 60 Minutes (37 years;3,728 episodes as of November 2005), American Bandstand (37 years; 2,811 episodes), Soul Train (35 years; 1,133 episodes), The Wonderful World of Disney (34 years from 1954 - 1990; 769 episodes), The Price Is Right (33 years with Bob Barker; over 6,000 episodes), The Tonight Show Starring Johnny Carson (31 years; 4,350 episodes; the show itself has run from 1954 to present), Saturday Night Live (30 years; 586 episodes), Wheel Of Fortune (30 years; over 900 episodes), 20/20 (27 years; 1272 episodes as of December 2005), The Phil Donahue Show (26 years; less than 900 episodes), Nightline (26 years; less than 900 episodes), The Ed Sullivan Show (24 years; 1,065 episodes), Entertainment Tonight (23 years; 5,677 episodes as of April 2005), Gunsmoke (20 years; 635 episodes), The Oprah Winfrey Show (20 years; 1059 episodes as of December 2005), The Simpsons (17 years as of December 2005; 362 episodes as of December 2005); Law & Order (15 years as of December 2005; 360 episodes), The Adventures of Ozzie & Harriet (14 years; 435 episodes), Bonanza (14 years; 431 episodes), The Andy Williams Show (14 seasons; less than 900 episodes), Knot's Landing (14 years; 345 episodes), Murder, She Wrote (12 years; 263 episodes), The Carol Burnett Show (12 years; 278 episodes), My Three Sons (12 years, 380 episodes), The Jeffersons (11 years; 253 episodes), M*A*S*H (11 years; 250 episodes), Happy Days (11 seasons; 255 episodes), E.R. (11 years; 250 episodes), Perry Mason (12 years; 301 episodes), The Dean Martin Show (10 years; 245 episodes), Friends (10 years; 238 episodes), Roseanne (10 years; 222 episodes), 7th Heaven (10 years as of December 2005; 210 episodes), Little House On The Prarie (10 years; 221 episodes), All In The Family (9 years; 210 episodes), Everybody Loves Raymond (9 years; 210 episodes), Night Court (9 years; 193 episodes), Touched By An Angel (9 years; 212 episodes), The Waltons (9 years; 221 episodes), Will & Grace (8 years, less than 900 episodes), The Cosby Show (8 years, 200 episodes), Barney Miller (8 years; 169 episodes), Designing Women (8 years; 168 episodes), The Golden Girls (7 years; 178 episodes) & The Mary Tyler Moore Show (7 years; 168 episodes), Mission: Impossible (7 years from 1966 - 1973; 171 episodes).
15. While all the "Sons" wore cowboy hats, Korla continued wearing his trademark turban, and was affectionately referred to by the other band members as "Cactus Pandit."
16. The Fantasy label was purchased by the Saul Zaentz company in 1967, and several of Mr. Pandit's early recordings were rereleased in the 1980s. The official discographer for the Korla Pandit website (www.korlapandit.com), Freek Kinkelaar, of The Netherlands (info@beequeen.nl), lists Korla's recordings as shown herein.
17. The Paramount film whose working title was Mr. & Mrs. Anonymous, starred Ray Miland, Joan Fontaine & Teresa Wright. While on one of her binges, Fontaine's character, a drunk, gets help from an Alcoholics Anonymous member played by Ray Miland. Mr. Pandit played a Hindu musician, with no spoken lines.
18. See, The Hollywood Reporter, September 2, 1954.
19. There can be no doubt that Korla Pandit was well-known and enormously popular at one point, or they wouldn't have been wondering where he was during his "comeback days." In an article published in The Chronicle-Telegram, from Elyria, Ohio (2 Apr 1954, page 20), writer John Lester stated "Remember Korla Pandit, who preceded both The Continental and Liberace as the feminine man of TV? Well, he can't be found these days. Some insiders feel he's ducking domestic troubles." Three months later, the same author and paper stated (27 Jul 1954, page 18), "...Korla Pandit, the turbaned organist-pianist-star of early TV, has been located and signed to a contract calling for 52 half-hour telefilms." At the close of the sixties, as his television popularity dwindled, he reached out to his public in concerts at mostly-California-based grand movie palaces from the legendary Orpheum and Wiltern Theaters in Los Angeles, to The Arlington Theatre in Santa Barbara, and Oakland's majestic Paramount Theatre, trading in his innovative Hammond organ-izing for the grandeur of awesome Wurlitzer and Robert Robertson instruments. He played SRO concerts under the auspices of theatre organ clubs. Between these sporadic appearances, he augmented his income by concertizing in supermarkets, shopping center music stores, convention halls, organ and piano trade shows, and even Sears Department Stores. Nonetheless, live concerts remained an integral part of his career well into the 1990s.
20. Information on last television talk show pilot, several residences and Seattle concerts courtesy of Mr. Michael Copner. During this same period (late 1970s to mid-1980s) Korla played at El Faro Restaurant in Calistoga, California, every Saturday night. Back in the 1950s he was known to have been the organist at The Old Tyme Movie House in El Segundo, California, near LAX.
21. Korla's Sonoma County, California, death certificate (Number 3-1998-59-002845) lists him as "white," a musician, age 77, married, and the names of both parents "unknown." It lists his father's place of birth as India; his mother's as France. The informant for his certificate was his son, Khris Koram (John) Pandit.
22. Later exponents of the "island/Polynesian/exotic" sounds such as Martin Denny, Les Baxter, Arthur Lyman and Robert Drasnin certainly must have all studied and borrowed from him. It was Korla Pandit who, in the 1940's, taught lounge organist Ethel Smith to play "Tico Tico." The arrangement gave her a best selling record, bringing her wealth and celebrity status. He was a pioneer in the beginnings of the Television Industry, an Original, very often imitated since, but never, ever duplicated.
23. See, Los Angeles Magazine, p. 73, The Many Faces Of Korla Pandit, by R. J. Smith. The Smith article incorrectly notes quite a few items about Korla Pandit, which would otherwise lead the casual (non-family member) to believe some rather horrendous, so-called facts about Korla. For example, the article states that it was unrecorded as to when Juan Rolando became Korla Pandit. It is known. It states that the City of Columbia, Missouri, is in the north eastern part of the state. It is centrally located. It notes Korla's city of birth as Columbia, Missouri. Korla was born in St. Louis. Smith goes on to state that Korla came to California in the early '40s...it was in the late 1930s. The article incorrectly stated that in 1949, Korla Pandit made his debut on a show entitled Hollywood Holiday. Juan Rolando made his actual debut as Korla Pandit on June 28, 1948 when Juan Rolando scored and performed the music for the 1948 revival of the 1932 original radio show Chandu The Magician. Juan received on-air billing as Korla Pandit, but was known to the cast as Juan Rolando. Smith speculates as to when and why Korla and Beryl were married, stating "The two married, perhaps in 1948, after a court struck down a state law prohibiting marriages between whites and members of minority groups." The truth is that John and Beryl met in 1943 and were married on July 21, 1944, in Tijuana, Mexico. His article claims that Korla's mother was of French and Black descent, which is not true. Doshia was of Black and Caucasian (English) descent. The article claims that John/Juan lived with "the Mexican family," which was actually his sister, Frances', brother-in-law, George Hernandez, and niece, Nina. George was Mexican. The reference in his article that Korla's father moved to Los Angeles in the early 1950s is, as well, inaccurate. Rev. Redd moved to Los Angeles in 1944; John in the late 1930s. The Duke Ellington meeting, as with several items in the article, is pure speculation. The meetings between Duke Ellington and Korla Pandit would have been public meetings of pure admiration. This author spoke with Duke Ellington's band member, Wendell Marshall, before he passed (who was a close friend of the author's father), who had already confirmed that meetings such as described in the Smith article (though years later would be the coincidence that non-related conversations would turn up vital information) were nothing more than two knowledgeable African-Americans within the same musical spectrum, who knew of each other's, shall we say, "secrets!" It seems that Korla, as did others of the time, who knew Duke Ellington did not write many of the songs to which he pinned his name, just as Duke knew that Korla as not Indian, but Black. It was a mutual "respect" of each other's climb to the top, in a way that many White entertainers and movie stars had always done! See also, http://www.findarticles.com/p/articles/mi_m1346/ is_6_46/ai_74869829 Other print authors and their websites are equally inaccurate about the birth, life and death of Korla Pandit/John Roland Redd, including Variety (the "Hollywood Bible;" See, November 23, 1998 issue) - IMDb.com (http://us.imdb.com/name/nm0659259/bio) - The Virtual Museum of the City of San Francisco (http://www.sfmuseum.org/hist10.pandit.html) - Space Age Pop Musicmaker (http://www.spaceagepop.com/pandit.htm). Even Korla himself was at times guilty of divulging incorrect information about his life as in a June 1996 interview with The Philadelphia City Paper (http://citypaper.net/articles/062096/article001.shtml).
24. Incidentally Ministerial, by Ernest S. Redd, I, © 1962, Ernest S. Redd, Stockton Trade Press, Whittier, California.
25. Korla's sister, Dorothy Cloud, stated that she never let on about his true identity, because that was his wish. She related to family members, including a Hannibal, Missouri, cousin, that it was out of respect for her brother (to paraphrase) that she never said anything publicly and only spoke of his familial relationship to other family members who already knew. Thanks to the Freedom of Information Act, and through the combined efforts of family members David Marshall-Rutledge de Clue, of St. Louis, Missouri, Perré deClue Harris-Patin-Scott, of Corona, New York, and Rhonda Rozetta Brown-Hall, of Hannibal, Missouri, Mr. Pandit's precise maternal ancestry was pieced together, through a combination of census records, birth certificate, death certificate, social security application, his father's 1962 autobiography, tracking down his birth home, family obituaries, oral histories, Mr. Verne Langdon (personal friend and biographer of Korla Pandit), and, Internet databases and websites. Both the 1930 Census noted above and Rev. Redd's autobiography noted above bear out the fact that John Roland Redd was born in 1921, in Missouri, to African-American parents, and is the very same Korla Pandit. While the research done by this author bears out Korla's maternal slave roots in Washington County, Missouri, and Caucasian, European (English) ancestry, his father's book bears out his paternal slave ancestry from Virginia. His cousin, Rhonda Hall, has been in contact with the family most of her life, including Dorothy Cloud, and helped enormously in guiding the author in various directions in an effort to truly reconstruct Korla Pandit's life history, in a way meant to bring the family together, and not supposedly "expose" some so-called life fantasy or mystery. Our family is not a tabloid waiting to be exposed, but a far reaching story and rich history that happens to include numerous well-known personalities. In July 2004, the author visited Columbia, Missouri, in central Missouri, two hours west of St. Louis. After having spoken to the same individuals with whom Mr. Smith previously spoke, much more information was obligingly revealed about the Redd family, once it was known that the author was a Lankford family member (via Rev. Redd's wife, Doshia), and that his uncle, Frank Burnam DeClue, had previously worked with several of those interviewed in Columbia.
26. An avid photographer and painter, many of his works are still around, with quite a few having been offered at auction on the Internet website, eBay, in May and June of 2004. Fortunately, a wealth of personal photos went to high bidders, collectors and dealers Ross Wilson and George Boccanfuso, both of Santa Rosa, California, who made their purchases available for inclusion on the Official Korla Pandit website: http://www.korlapandit.com
27. While the family had known for decades about Korla's other children, perhaps because of the times, perhaps because of possible damage to his reputation, and certainly because it was requested, nothing was ever said of them unless you somehow already knew. In May 2005, thanks to the online version of this biographical sketch, the author was contacted by Korla's son, Sven Djorsing (b: 26 Sep 1975), who was added to our Lankford family tree. Sven's wife's name is Cornelia (see photo on the family pages,) & their son, Elijah, was born 16 Feb 2005. We can only hope that his daughter (Barbara Sue W.) and son (David L.) will come forward as well and allow us to add them to our illustrious family tree.
Photo & Document Credits:
Some of the photos used herein are courtesy of www.korlapandit.com (with the exceptions noted herein) and are used by permission The photo of Korla Pandit's great-grandparent's headstones, Second Baptist Church (exterior & interior), 8th & Center Streets Baptist Church, 4240 Enright (Korla's birth home) and Fred Douglass School in Columbia, Missouri, are by & donated by Mr. David de Clue (sitzar@gmail.com or sitzar@netscape.net). Though no copyright claim is herein made as to those photos, it is requested that you first inform Mr. de Clue if you download any or plan to use any for any purpose whatsoever. The scans of many of Mr. Pandit's albums are by and donated by David de Clue and the same prior download and reprint notification is requested. The scan of Korla Pandit's father's obituary was donated by Korla's cousin, Mrs. Rhonda Hall (rhondahall1957@hotmail.com). The 1930 census information was donated by Korla's cousin, Mrs. Perré deClue Scott (perre.scott@gmail.com). The photo of and information about Sven & Cornelia Djorsing was provided by Mr. Sven Djorsing (djorsing@yahoo.com). Korla Pandit's social security card application was obtained via the U.S. Social Security Administration, Baltimore, Maryland (thanks to the Freedom Of Information Act) and was donated by David de Clue. Additional firsthand information and photos supplied by Mrs. Jeanne Johnson (Photo of Mrs. Frances "Frankie" Langford-Johnson and group photo of the Redd family), Ms. Wyna Faye Elbert (copies of 1930s graduation programmes from Fred Douglass School and original newspaper photo of Ruth Lankford Redd), Mrs. Dorothy Redd-Cloud (via firsthand and secondhand conversations), Mr. Verne Langdon - copies of website photos, other photos and documents not used herein but referenced to, background information, personal information as a close friend of Korla & Beryl and via numerous emails and phone conversations (thanks for the friendship and presents, Verne), Ms. Mary Jane Davis and Mr. Michael Copner. No copyright claim is made as to the documents or photos used herein, with the exceptions noted, but only as to this compilation.
Sources:
Mr. David Marshall-Rutledge de Clue, St. Louis, Missouri (Korla's maternal second cousin, twice removed)
Mrs. Dorothy Cloud, Los Angeles, California (Korla's sister)
Mrs. Perré deClue Harris-Patin-Scott, Corona, New York (Korla's maternal second cousin, once removed)
Mrs. Rhonda Brown-Hall, Hannibal, Missouri (Korla's maternal first cousin, once removed)
Mrs. Jeanne Johnson, Hacienda, California (Korla's paternal first cousin, once removed)
Mr. Verne Langdon, Montecito, California (longtime friend & biographer of Korla's)
Mr. Max DeBeeson, British Columbia, Canada (Korla's brother-in-law)
Mr. Michael Copner, Los Angeles, California (longtime friend of and promoter for Korla Pandit)
Mr. Sven Erik Djorsing, Fullerton, California (Korla's son)
Ms. Wyna Faye Elbert, Columbia, MO (attended school with the Redd children; coworker of the author's "Uncle Frank" DeClue)
Ms. Mary Jane Davis, Columbia, Missouri (attended school with the Redd children; friend of the author's "Uncle Frank" DeClue)
Ms. Michelle Fierro, Los Angeles, California (information on El Faro restaurant)
Mr. John Matthews, The Glowing Deal Page (www.glowingdeal.com) (MP3 copies of Chandu The Magician)
Graduation Ceremony Programmes from Fred Douglass School, Columbia, Missouri (1932, 1935, 1936, 1937)
Incidentally Ministerial, by Ernest S. Redd, I, © 1962, Ernest S. Redd, I., Stockton Trade Press, Whittier, California
The Motion Picture Guide (S), 1927 - 1983, by Jay Robert Nash, Cinebooks, Inc., 1987
St. Louis City Directory (1883 - 1980) (noting Ernest S. Redd in 1922 at 4240 Enright Avenue)
Whatever Became Of---?, by Richard Lamparski, © 1986, Crown Publishers, New York, New York
The 1939 motion picture, Midnight Shadow, starring Frances Redd
vienici.com website (online genealogy database; Washington County Black Marriages, 1881-1899)
www.korlapandit.com website (Mr. Verne Langdon, owner), Montecito, California
www.pharo.com/wild_talents/korla_pandit/articles/wtkp_00_his_stage_identity.htm (Korla Pandit: His Stage Identity)
www.pharo.com/wild_talents/korla_pandit/articles/wtkp_01_his_real_identity.htm (Korla Pandit: His Real Identity)
www.spaceagepop.com/pandit.htm (Space Age Pop Music: Korla Pandit)
www.mikebeeson.com/family_mike/beeson_history/ (Beeson family website)
www3.telus.net/DeBeeson/ (Website dedicated to Beryl Pandit's father & Disney animator, George DeJean Beeson)
desmoinesregister.com/extras/iowans/redd.html (Bio of Korla's brother, Ernest "Speck" Redd)
www.sfmuseum.net/hist10/pandit.html (Two bios of Korla Pandit, with incorrect information)
movies2.nytimes.com/gst/movies/movie,htnl?v_id=184400 (NY Times review of the film, Spectre of the Spectres)
www.glowingdial.com/archived_chandu.htm (Website with free MP3 downloads of Chandu The Magician radio show)
www.pstos.org/instruments/bc/vancouver/orpheum.htm (Orpheum Theatre site noting Korla's appearance there in 1968)
www.cinemaweb.com/silenfilm/97_3_mon.htm (info on 1990 Phantom Of The Opera filmscore)
www.variety.com (November 23, 1998 article by Jill Pesselnick, noting a lot of incorrect information)
www.tvtome.com (television episodes)
otrsite.com/logs/logc1012.htm (complete listing of Chandu The Magician episodes)
www.celebritydirect.org/platters/groups.htm (The Platters Information Site)
www.freewebs.com/aawashco/biographies.htm (edited and copyrighted biography by David de Clue of Korla's great Uncle John Anderson Lankford; his mother
Doshia's Uncle John; his grandmother Frances "Frankie" Maria Langford-Johnson's brother)
U.S. Social Security Death Index Online version (www.ancestry.com)
U.S. Social Security Death Index (1996 CD-ROM version)
Missouri State Archives, Jefferson City, Missouri (Marriage certificate (registry) of Phil Lankford and Nancy Johnson, July 1865)
Missouri Department of Health, Bureau of Vital Statistics, Jefferson City, Missouri (Birth Certificate)
St. Louis Housing Authority, Building Division, City Hall, St. Louis, Missouri U. S. Census, Washington County, Breton Township, Missouri, 1870, 1880 U. S. Census, Marion County, City of Hannibal, Second Ward, Missouri, 1930
The Oxnard Press-Courier, May 20, 1950, page 6 (Television Schedule)
Down Beat Magazine, March 23, 1951 (Los Angeles News)
The Billboard (Hollywood) September 22, 1951
The Oxnard Press-Courier, September 11, 1952, page 14 (Tuning In on the Air Waves: Tonight - Tele-Tips)
The Mountain Democrat and Placerville Times, Placerville, California, April 21, 1960, page 7 (local advertisement "Cress Home Music Center: Korla Pandit In Person")The Des Moines Tribune, August 29, 1974, p. 35 (Obituary of Speck Redd)
The Chronicle-Telegram, Elryia, Ohio, April 2, 1954, page 20 (Radio And Television)
The Chronicle-Telegram, Elyria, Ohio, July 27, 1954, page 18 (Radio And Television)
The Indiana Evening Gazette, January 20, 1977, page 25 (At Area Schools - Filmstrip Traces Campaign Events)
The Los Angeles Examiner, February 13, 1931, p. 1 (Article on George DeBeeson)
The New York Press, Volume 12, Number 40, 2004, "Film," by Ed Halter (Review of "Spectres of Spectrum" and notes showing of the film at the 2004 New York
Film Festivel's "Views From The Avante Garde")
The Boxton Globe, October 13, 2002, p. D2 (Korla mentioned as most likely an African-American from Missouri)
IN CONCLUSION
The Official Korla Pandit Website thanks David de Clue for sharing his accurately-detailed, most informative (copyrighted) biography of Korla Pandit with us, and allowing us to reprint it here, in it's entirety.
Korla Pandit was an extremely influential part of the world of music. He played a pivotal role creating and bringing to the public innovative sounds and new music from a revolutionary instrument, the "electronic organ," made not by the well-established pioneer Wurlitzer, but a hybrid Hammond Organ Company.
His universal language was the music he performed. And, as Korla Pandit, he achieved what neither John Roland Redd nor Juan Rolando could have ever attained.
Korla Pandit was a man who found himself in the right place at the right time, moved with his opportunities, and grew into his self-developed personality comfortably, even brilliantly. He excelled in the business of Show by devising a unique image, along with melodies and harmonics equally intriguing. Today he is regarded by many as the essential component that determined the birth of Exotica.
When Korla passed, we lost not only a scintillating personality, unique American musician and quintessential Hollywood creation; we also lost a wonderful, inventive, and exquisitely original Human Being.
"When I stand before God at the end of my life, I would hope that I would not have a single bit of talent left, and could say, "I used everything you gave me." Erma Bombeck wrote those words, but Korla Pandit could just as easily have spoken them, for certainly, by the end of his life, he had used everything God had given him.
Verne Langdon, February 2006
[ Main || Bio || Gallery || Reviews || Cactus Pandit || Rose Parade || Bust Of Korla || Wisdom || Discography || Tunes || Jette Satin ||  Transcription Discs || Sheet music II  History Part One II History Part Two II Obituaries II Remembering Korla II Kudos II Contact Us ]
©1999 Dejavu Record Company, all rights reserved.